Nile Perch Facts!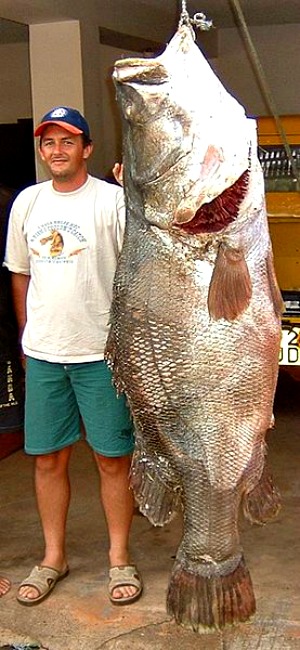 The Nile Perch is a giant freshwater fish that lives in Africa. It was first endemic to the Ethiopian regions of Africa but now it has been introduced to other areas as well. The Nile perch will grow to a maximum length of 6 ft and is silver in colour with a blue tinge. Its eyes are dark black in colour with a bright yellow outer ring. It prefers to live in warm tropical waters even though it can live in any freshwater source. The adult Nile perch lives in areas of the lake with adequate concentrations of oxygen, but the young are confined to shallow areas.
Predator
This giant fish is a fierce predator and eats massive amounts of food. It feeds on a variety of prey including crustaceans, mollusks, insects, fish and even its own kind. It eats a range of prey of different sizes. It was introduced to other places for the purpose of commercial fishing. However, it has had a devastating effect on its native as well as introduced habitat and has caused many ecological problems.
Effects of Nile Perch
It has caused massive declines in native fish in its habitat due to its extensive feeding. While causing declines in other fish populations, the Nile perch has increased its own numbers. However there is a benefit of its increase; it is easy to find and catch a Nile perch. Its size and edible bone-free meat has made it a great food source. It is commercially fished for food and is also famous with sport anglers.
Nile Perch are featured in the following book:
25 River Monsters
---
The YouTube video playlist below contains videos about Nile Perch. Details of the videos featured are underneath.
The Playlist:
MONSTER NILE PERCH 114 LB IN LAKE NASSER EGYPT – HD by YURI GRISENDI
114 LBS MONSTER NILE PERCH IN SPINNING – HD by YURI GRISENDI
Monster Nile Perch caught on Lake Nasser by reeloutdoors