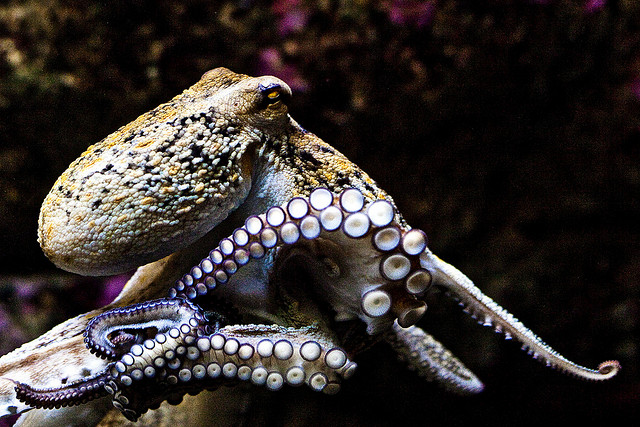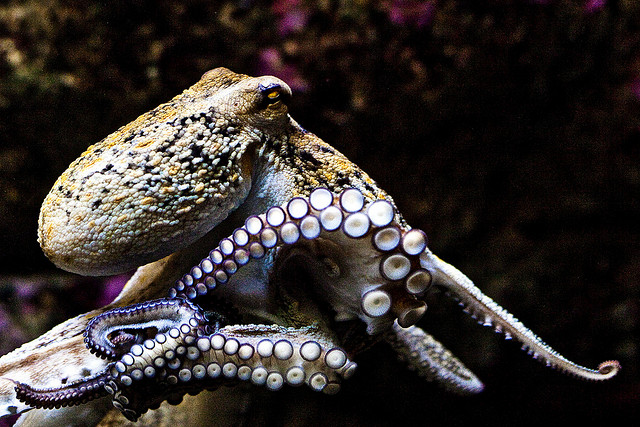 True or False?
1. The plural of octopus is octopi.
 True
 False
2. The huge Pacific octopus is the biggest octopus in the world, but it is not big enough to eat sharks.
 True
 False
3. An octopus has eight hearts.
 True
 False
4. Octopus blood is blue.
 True
 False
5. An octopus can live up to 25 years.
 True
 False
6. An octopus' brain is the same size as a bird's.
 True
 False
7. A blue-ringed octopus' bite is so deadly it can kill 26 humans within minutes.
 True
 False
8. The vampire squid is not a squid, but an octopus.
 True
 False
9. An octopus' diet consists mostly of greens — seaweeds and more seaweeds.
 True
 False
10. Octopuses gather shiny objects as they travel across the ocean floor.
 True
 False
Answers to Octopus Quiz:
1. False. The Greek word oktōpous carries the Greek-word plural "octopuses". Octopodes is also an acceptable plural form.
2. False. Pacific octopuses are so big that they can eat sharks and break a shark's spine using their strong arms.
3. False. This sea creature has eight arms and three hearts.
4. True.
5. False. Octopuses actually die young and only live from one to five years.
6. True.
7. True.
8. True.
9. False. Octopuses break hard shells of crabs, prawns and mollusks using their strong beaks. Sometimes, they drill a hole in the shell to slurp the soft parts inside.
10. True. In fact, they arrange the shiny objects they collect to create an "octopus garden".