Interesting Facts About Insects – Top 10 Gruesome Insect Facts!
Small but terrible. That's what insects are. Indeed, most insects can fit in the palm of your hand and yet, they can also result in the biggest fears, with even adults screaming at the sight of them. Don't think they're creepy? Well, these ten facts may just change your mind.
---
1. A cockroach can live for weeks without its head.
Cockroaches are some of the creepiest insects around for two main reasons. One, they carry tons of bacteria that can cause harmful diseases and two, they are so hard to kill. And we mean hard. A cockroach can live for weeks without food and water. They can hold their breath for up to 40 minutes which means flushing them down the toilet isn't a surefire way to kill them. And they can even survive a nuclear explosion.
Not convinced about how hardy cockroaches are? Well, take this – cockroaches can live weeks without their heads. So don't be surprised if you see a headless cockroach crawling around (even though you might just feel like screaming). This is because cockroaches don't need their brains to breathe or move. Those functions are controlled by organs found in other parts of their body. They also won't bleed to death like we would when our heads are cut. The wound would just clot like any other wound.
This doesn't mean, though, that cockroaches are immortal. They will still die eventually from hunger and thirst since they need their heads to eat and drink.
Oh, and one more thing. A cockroach head can also survive on its own for several hours or even days if it's refrigerated. Now, what's more gruesome? A headless cockroach or a moving cockroach head?
2. Honey bees have hair on their eyeballs.
Honey bees have one of the best eyesights in the insect world. They have five eyes, two of which are compound, meaning they are made up of thousands of smaller eyes. These compound eyes are so efficient, they can see up to 300 frames per second and they can also see ultraviolet light.
That's amazing but here's something creepy about the eyes of honey bees. They have hair. The fine hairs help the bees to pick up and transfer more pollen. Also, they can help the bees tell the direction of the wind and to detect the humidity in the air.
---
3. In some parts of the world, army ants are used to close wounds.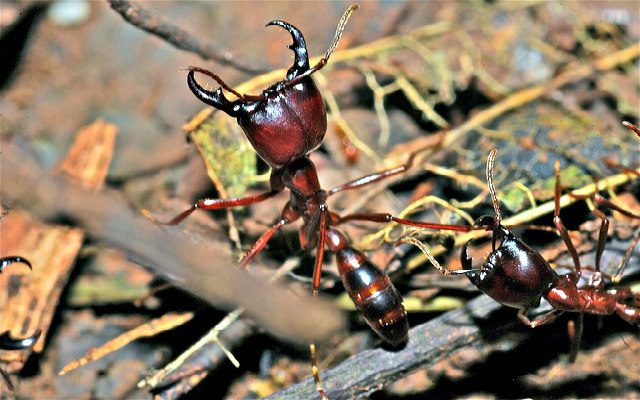 Some army ants have such powerful mandibles that when they bite you, you'll really scream from the pain. Some won't even let go of your skin even after they're dead, leaving behind nasty puncture wounds.
Their strong jaws are not always harmful, though. In East Africa and parts of the Amazon, army ants are used to close the wounds. In the case of a bad cut, they get army ants to bite both sides of the cut, holding the skin together. This effectively stops the bleeding, much like stitches do and can hold for up to a few days, allowing the wound to heal. This practice is so effective it has been around since 1000 BC.
---
4. Some caterpillars disguise themselves as bird poop.
Caterpillars are a favorite snack of birds so to protect themselves, they've taken on various appearances. Some look like twigs. Others look like snake heads and the puss moth has a unique, startling appearance altogether.
Then there are the caterpillars that disguise themselves as bird poop such as the white admiral, the giant swallowtail, the Asian swallowtail and the viceroy caterpillars. They are black or gray with tinges of yellow and white, just like bird poop, and some of them are even slightly dangling off a branch or a leaf, making them look more convincing. And it works! Studies show that birds are three times less likely to attack a hanging bird poop-looking caterpillar than a straight one.
---
5. Female praying mantises eat their mates.
Not always. Sometimes, if the male is lucky enough, he can run for it and survive. If he's out of luck, though, the larger and stronger female will end up eating him. Head first. In fact, some females start eating the heads of the males even before mating. Amazingly, he's still able to get the job done but he won't be going anywhere afterwards.
Why does the female praying mantis do this? Easy. She's just hungry. Praying mantises are ferocious hunters, after all.
---
6. Twisted-wing parasite larvae eat their mother.
What's worse than eating your own mate? Probably eating your own mother, which is exactly what the twisted-wing parasite larvae do.
These tiny insects live inside bees, wasps and cockroaches. The adult males grow wings and eventually leave the host to find females to mate with but the females, once inside a host, never leave, simply sticking their butts out of the host so that they can be mated with. After mating, the females get pregnant and when the babies are ready to come out, they eat their mother from the inside, bursting out of her brood canal. Now, that's a painful birth. Eventually, the larvae develop legs and they crawl out of the host to find a new one where they will grow and develop into adults. And the cycle starts all over again.
---
7. House flies poop constantly.
See that fly perched on the wall or at the edge of your table? It's probably pooping.
House flies eat a lot of food but they can't take it all in or they wouldn't be able to fly, so they're also constantly pooping. Oh, and they regularly vomit, too. That's because they can't chew solid food. When they find solid food, like a slice of bread, for example, what they do is that they vomit on it in order to soften it and when it becomes soft enough, they suck it all in, vomit and food and all.
So the next time you see a fly land on something you're eating, forget about putting it inside your mouth. The fly might have already pooped on it or threw up on it – and your guess is as good as anyone's as to what meal it ate last. Even if it didn't, keep in mind that a single house fly can carry up to 30 million bacteria, 6 million on its legs that touched your food! Yuck!
---
8. Leaf beetle larvae have shields made of poop.
Speaking of poop, the larvae of various species of leaf beetles have found a use for theirs. They use them to make shields – fecal shields. These shields act not just as physical barriers like the shields warriors use but also act as chemical barriers, filled with chemical compounds that repel other insects that might think of eating them. The shape and size of the shield varies among species, with some stuck to the larva's back or held up by the larva like an umbrella. Either way, the larva needs a lot of energy to carry the shield, which can weigh up to half its own weight.
---
9. Assassin bugs suck the insides of their prey.
Assassin bugs are well-named. They sneak up to other insects – caterpillars, beetles, flies, bees, crickets, cockroaches – even those larger than they are and then they stab it with their long straw-like mouth, injecting a good amount of their saliva. The saliva is toxic and turns the insides of the insect into liquid, allowing the assassin bug to gradually suck them out, leaving behind the empty, lifeless shell. Sometimes, they even start sucking the insides of their prey while it is still alive, holding it down using their hairy legs.
Assassin bugs can be beneficial because they feed on pests. However, they can also be harmful. Some assassin bugs can deliver a very painful bite when picked up while others can transmit Chaga's Disease, which kills about 13,000 people each year in Central and South America.
10. Voodoo wasps turn caterpillars into their bodyguards.
The voodoo wasp is another insect that lives up to its name. You see, female voodoo wasps lay their eggs inside a caterpillar's body. After the eggs hatch, the pupae crawl out of the caterpillar. The caterpillar appears dead, unmoving, but watch when a predator such as another bug comes near. Suddenly, the caterpillar wildly thrashes about as if a spell has been cast upon it. The result? The predator leaves and the pupae are safe. In essence, the caterpillar has not only become the living nursery for the pupae, but it is also transformed into their bodyguard, a process scientists have yet to explain. (Who knows? Maybe wasps can practice voodoo.)
---
Sources:
https://en.wikipedia.org/wiki/Dorylus
http://ideas.ted.com/a-history-of-biomaterials/
http://oddorwhat.com/nature/11-weird-and-creepy-bug-facts
http://www.wisegeek.com/do-honeybees-have-hair-on-their-eyes.htm