Burrowing Owl Facts!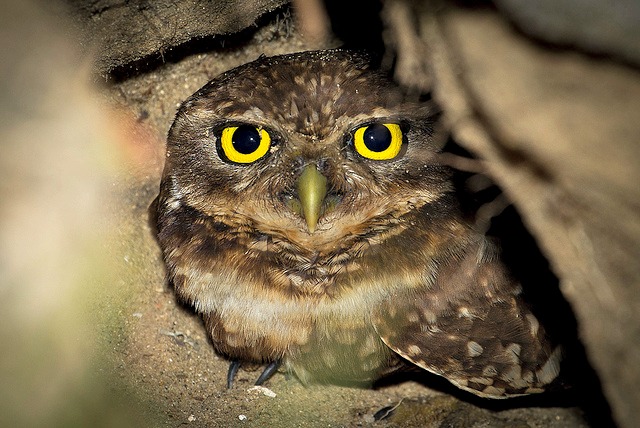 The burrowing owl is one of the smallest owls in North America — only slightly larger than an American robin. It has no ear tufts, but it does have long legs that allow it to run when hunting. Unlike other owls, the burrowing owl hunts during the day.
The unique feature of burrowing owls is that they nest underground. They can dig their own burrows if they want to, but they prefer to borrow the abandoned burrows of mammals like the prairie dog.
They deposit mammal dung, mostly taken from cattle, around the burrow. This acts as bait for the dung beetles that the owls feed on. They also prey on small mammals, reptiles and birds. This owl can hunt on foot or in the air.
Burrowing Owls are featured in these following books:
25 Desert Animals
101 Facts… Desert Animals
101 Birds of Prey facts!
25 Strangest Animals in the World!
The YouTube video playlist below contains videos about Burrowing Owls. Details of the videos featured are underneath.
The Playlist:
Burrowing owls run for cover by JournOwl
Kings of the Prairie : The Burrowing Owl's Cozy Home by smithsonianchannel
The Secret Life of Burrowing Owls by Mac Stone
WA Birds: Burrowing Owls: Natural Clowns by knimig
Burrowing Owl is BURROWING!! (Olympus TG-2 1080p digiscoping movie Test) by MackM48
Burrowing Owl Giving Alarm Chatter Call by Larry Jordan